YouTube's 'Trucker Dee' Offers His Advice To New Drivers
Ever since he could remember, Dasiem Williams had always wanted to pursue a career as a professional driver. He pursued other careers but knew that the transportation industry was longing for his presence. "I watched many YouTube videos during my research because I enjoyed hearing first-hand information about the industry that I wanted to join. I really enjoyed what drivers were saying about Stevens' safety and training program, and knew that is where I wanted to start my new career."
I watched many YouTube videos during my research because I enjoyed hearing first-hand information about the industry that I wanted to join. I really enjoyed what drivers were saying about Stevens' safety and training program, and knew that is where I wanted to start my new career.

– Dasiem Williams, YouTube Truck Driver
Stevens Transport Contractor Division
Shortly after, Dasiem joined his fellow classmates at Tampa Truck Driving School in Tampa, FL. He thoroughly enjoyed the training he received and recalled that everyone at Tampa TDS truly set him up for success. After graduating with his CDL, Dasiem traveled to Stevens' headquarters in Dallas, TX.
"I had two trainers who each had different driving styles. After graduating to my solo truck, I was able to combine both of their techniques and tips and was able to create my own style. We are still close to this day, and I always know that I'm able to call them with any questions that I have."
After spending some time on the road solo, Dasiem knew that he wanted to expand on his career and join Stevens Transport Contractor Division. "Both of my trainers were part of this program, so I was able to obtain much information about the program from them. I also knew that in order to make my own judgments about it, I would have to experience it for myself."
Throughout this entire process, Dasiem has been documenting his journey through Stevens on his YouTube channel, Trucker Dee. Dasiem stated that he wants to use his channel not only to pass the time during his breaks, but to also educate others on what to expect from this industry. "There is much more to this job than just holding a steering wheel. I wanted others to know that I am here to share my journey as well as any other information that they are wanting to know about both the job and Stevens."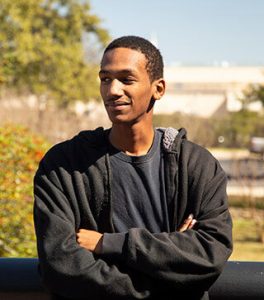 Speaking of passing things along, Dasiem also shared some advice that he had for new drivers entering the industry. "Be a sponge, and absorb as much knowledge as you can. Also, don't be afraid to ask other drivers about their experiences. They are willing to share their knowledge with you, and who knows, they may even show you pay stubs or things like that!"
When Dasiem is not exploring the country and delivering loads, he can be found spending every moment that he can with his two daughters. "I'm doing this for them. It's hard sometimes when I can't attend special parties and events with them, but I'm making those sacrifices to provide the best that I can for them. I try to be as involved with them while I'm out here through Facetime and phone calls, but truly cherish the time I get to spend while I'm at home."
Follow Dasiem on YouTube
You can follow Dasiem along on his journey by subscribing to his YouTube channel. Congrats on all of your success Dasiem and we look forward to seeing you succeed all of your goals with us!