Stevens Driver Brings Cancer Awareness To Trucking
Nikeyta 'Pinky' Matthews, a longtime member of the Stevens Transport driving force, is an inspiration to countless women in the trucking industry.   As a driver trainer, she has helped mentor and inspire hundreds of women as they began their careers as professional drivers.  As a YouTube vlogger (OTR Diva), she has been a tireless voice for driver safety.  And now, in the second year of her lease purchase, she exudes the benefits of business ownership through her hard work and commitment.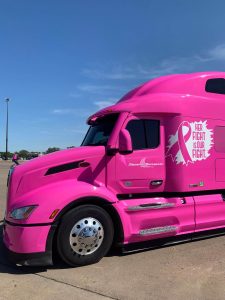 But her biggest contributions may be felt outside of the truck.  To help raise awareness for the fight against breast cancer, her newly wrapped Peterbilt 579 was unveiled in Dallas, TX, earlier this month.  "Ms. Clarissa," as her truck is affectionately known, is bright pink and adorned with the message "Her Fight is our Fight."
"Cancer sucks.  I lost my father to cancer, I have a cousin who survived cancer, and there are several Stevens Transport drivers who have been affected by breast cancer.  What they went through opened my heart, and I dedicate my truck to survivors and hope to bring more awareness to what they're going through."
"We are blessed to have such a compassionate individual driving for Stevens Transport," said Vice President Angela Horowitz, "there is no better person than Nikeyta to be the face of this great cause, and that is why Stevens Transport was proud to select her to be our ambassador on the road, in the fight against cancer."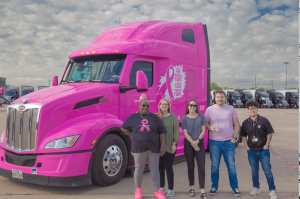 "The impact that my new truck has had on people is amazing," Nikeyta shared with tears in her eyes. "This is all mind-blowing. I've had both drivers and pedestrians stop me to tell me how much it means to them and how important this truck is to the families of those that have been affected by this illness. It is an honor for me to partner with Stevens Transport and be a part of this cause and the fight against all kinds of cancer."
Always a supporter of the Make-A-Wish foundation, Nikeyta and her pink truck made their first public appearance at the Mother's Day Truck Convoy in Lancaster, PA, this past weekend. Nikeyta, who drives in the Stevens Transport Dedicated Division, was able to participate for a second straight year and is also committed to raising money for Make-A-Wish to help grant the wishes of children with critical illnesses.
To learn more about the fight against breast cancer and her fund-raising efforts, visit https://www.komen.org/ and https://wish.org/
To learn more about Nikeyta's journey as a professional driver and her commitment to helping others, check out these great videos:
Learn how Pinky began her career
How Pinky uses OTR Diva to encourage women