Stevens Transport continues to be one of the most highly recognized carriers in the industry, winning multiple prestigious awards. We recently added two more distinctive accolades to our already impressive list from Target, who we've successfully partnered with since August of 2006.
The first award, "Outstanding Partner for First Mile Food & Beverage during Coronavirus 2020," was given to recognize a carrier who displayed the best on-time pick-up and delivery performance, accompanied by zero load rejections or a high acceptance rate during the volume spike brought about by the Coronavirus pandemic. According to Target, they witnessed over $10 billion in incremental sales within the first three quarters of 2020.
"As the pandemic spread throughout the country, Target saw a big increase in demand within the food and beverage category," said Food Supply Chain Senior Manager Abhimanyu Sulakhe. "Stevens Transport supported all of Target's needs with no tender rejections and excellent on-time delivery performance. Additionally, Stevens was vital in executing a successful cherry season and launch of our drop trailer program at our Target Food Distribution Centers. Target is proud to have partners like Stevens Transport who help us deliver joy to people's lives."
Stevens Vice Chairman Todd Aaron passed along his praises to Stevens' Target team for their well-earned award. "Since Day 1 back in August of 2006 when I consummated our Target partnership, we h
ave continued our campaign to position Stevens Transport as a Target preferred supplier of choice. Today's recognition is a testament to the tireless commitment of our team's efforts to execute at a mission-critical level."
Raven Kuehn, Stevens' Customer Service Representative for Target, also received the honor of "Outstanding Partner for First Mile Food & Beverage." This award recognized a partner whose promptness and detailed communication with Target and its vendors went above and beyond during 2020, as well as offered quick resolutions to issues that arose on a daily basis.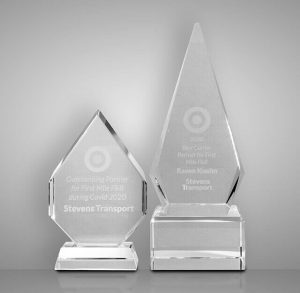 Sean Yahn, Target's Senior Logistics Analyst, spoke about what made Raven the clear recipient this year. "Raven provides Target with an effortless customer service experience. She provides thorough and prompt communication with our operations team and vendor network. She continues to look for opportunities to improve the current process and is quick to resolve any issues that may arise. Thank you Raven for your commitment and partnership in delivering excellent results."
Raven was thrilled to receive this esteemed honor, and thanked Target for their continued partnership with Stevens. "The positive growth and success that I have seen with this account has been very exciting to see. I truly enjoy the relationship I have cultivated with everyone at Target, and look forward to seeing what is in store for us in 2021!"